What's HOT? Celebrity Cuts and Dry Shampoo!!
Recently, Katie McBroom, Fashion Blogger stopped into VISIONS SALON for her HOT new look from ARROJO NYC's — NICK ARROJO! Nick comes to Visions Salon often, traveling form his New York salon to Wellington!  It's always an honor to have him visit and this time we were graced by the incomparable writer! You can read all about her adventures on her blog, Martinis & Mascara 
Katie also writes for the Palm Beach Post where she highlighted the MUST HAVE product ARROJO REFINISH!
What we're lovin': ARROJO ReFINISH Dry Shampoo
Why: Infused with aloe vera and ginger, ReFINISH cleans hair without water by absorbing excess oils. Using this and shampooing less will allow you to preserve your color longer. You can also use it to add serious texture for a messy bun, topknot or similar updo. This stuff is also a lifesaver when you oversleep and need to look polished in a pinch. It lives in my hair kit at all times!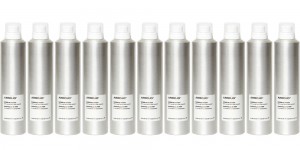 I'm sure you're wondering where in Palm Beach County you can find this MUST HAVE product of the season.. VISIONS SALON.. of course.