I hope that you are still in love with the pixie because its not going any where in 2014.
It's as HOT as ever and the variations are getting more creative as the trend persists.
Pastel colors are making a come back! Show it off by adding  a surprise to your pixie!
Perfect for those who love to be daring, detailed and fashion forward.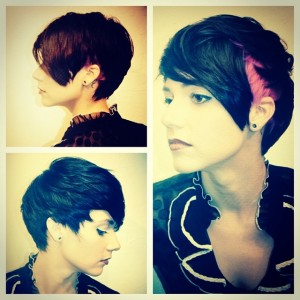 Next up is THE WAVE! Think Victories Secret Model with a modern twist.
Women today need products and systems that work with their hair!
With the Arrojo American wave you can create those tousled locks
with time to spare before your A.M. commute.
If you're a gal on the go, low ponytails and high buns are classic styling DO!
And top it all off with a quick under eye liner in a blue shade of your choice.
Color is POPPING! and we're ready for a SPECTACULAR 2014!