If you haven't noticed — and I'm saying that with much sarcasm.. the PIXIE is at the top of list for THE haircut of the 2013-2014 season. Since there is an insurgence of the look on runways.. movies.. tv shows.. and your local hot spot.. you can be certain SHORT will be in for a while. Of course, long beautiful locks made popular by Victoria's Secret models will NEVER die! This is due to the ever misunderstood common male perspective that long hair is feminine.
BUT…
Surely Halle Barry smashed this stigma at least a decade ago, and since then, off goes the hair! and the results are BOLD – FEMININE – KNOCK OUT looks that will drive anyone to the salon for more.
So you're thinking can I ROCK this look??? the answer is a resounding YES YOU CAN!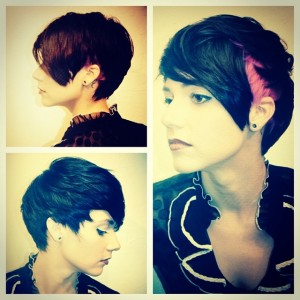 hair by Tracy Vasquez for Visions Salon
A woman asked me at the bank if she could ROCK IT! She was a little older than the 20/30 crowd and had already worn this fresh look in it's 1970's form. (IN 1970, of course) She thought maybe the "bell bottom theory of fashion" applies here. Which, if you are not certain, is the theory that says if you wore the trend once you shouldn't wear it again. So lets sit down and have a quick class about "trends". First the pixie itself is no longer a trend. What makes any pixie "trendy" is when a group of beautiful celebs start lobbing it off — and then so do you. Ladies.. NO ONE should be a lemming. Taking in the latest look of Michelle Williams to your hair designer will not leave you looking like her at all.. unless you do.. and then CONGRATS! but for the rest of us who love the cut but don't "look" like her, you're going to need a talented hair designer who is creative, talented, and PICKY! Picky because anyone can cut your hair off.. BUT not everyone can design a cut for your face shape and daily needs while being relentless about how every little piece falls. WHY IS THAT IMPORTANT??  Well.. if you have tons of hair and you wear it in a pony all day, no one will notice that little piece behind your ear that was cut a little too short. This is NOT the case with a pixie.. a bob.. or any other precision cut. That being said, once the foundation of the cut is laid perfectly — SHATTERING it into pieces for that HOT tousled "short hair don't care" look can begin. All I'm saying is.. choose wisely! But GO BOLD! Be the first in your crew. Don't look back — add a little piece of "trend" to the look. Grab a hot color and rock it in the fringe, rock it underneath, whatever you do JUST ROCK IT!
What makes any cut hot — IS YOU! and your confidence that says … "yup! I just got my long down to the center of back gorgeous hair cut off because what makes me beautiful is still on the inside but look at this ridiculously HOT cut my stylist just gave me and don't you wish your stylist was this talented.. (cue the pussycat dolls sound track "don't cha!")
SO!
WHAT ARE YOU WAITING FOR!! Grab your open toed suede camel booties and your ray-bans and get to it!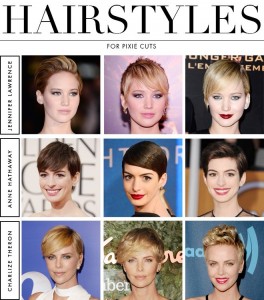 Courtesy of Pinterest