October Specials!
This October at Visions Salon, make your hair "Hurricane Proof", with all Arrojo Hairsprays being 20% off until October 31, 2016.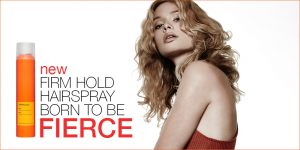 FIERCE Firm Hold Hairspray
ARROJO'S Newest Hairspray, FIERCE, is a modern aerosol you can apply and reapply. Anchors ponytails and chignons, buns and twists with firm hold and glossy shine. Adds bombshell hold to blow-outs. Protects from humidity, fortifies strands, and the fine mist fixes styles in place without stickiness.
Directions: Shake can. Spray into dry, finished styles in short, even bursts from about 10 inches away. Use to create firm hold with a soft and shiny finish. Reapply as required.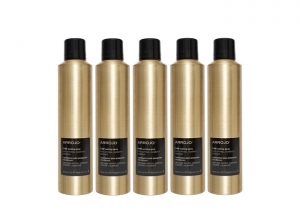 PrIMP Working Spray
One of Visions stylists' FAVORITE products, PRIMP Working Spray provides light, pliable hold, working spray is for primping and coiffing different shapes and styles. Amazingly responsive to heat-tool styling. Creates grip, adds detail.
Directions: Hold about 8-10 inches away from hair and mist evenly into style. Great for layering into styled hair for increased texture and control.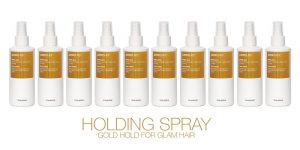 Holding Spray
A non-aerosol mist to build volume, add shine, and hold styles in place. Creates structure, defeats wilting. Great for updos. Brushes out effortlessly. No flakes, no stiffness.
Directions: Hold about eight inches from the hair and mist in fluid, even strokes. Apply throughout the day to rejuvenate your look.
"To fix a style to last all day, I love Holding Spray. Use to hold styles in place, create structure, and invigorate subdued styles. Has subtle sheen, and, unlike traditional hairspray, never leaves hair flaky or stiff."
– Nick Arrojo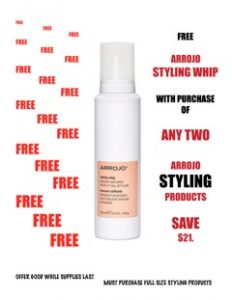 In Addition, Visions Salon is continuing our special of a free ARROJO Styling Whip with the Purchase of any TWO Full Size ARROJO Styling
Products
!
styling whip
Made with nutritious argan oil. Provides lightweight conditioning, creates volume and hold, softness and shine.
Directions: A versatile styler perfect for straight, wavy or curly. Apply from roots to ends of damp hair, blow-dry or finger-style into your desired look.
Please Note: All specials are available while supplies last OR until October 31, 2016.  Hairspray sale excludes ARROJO Shine Spray.