New at Visions Salon, ARROJO's newest product, ReNew CoWash!
Purifying, non-foaming cleansing conditioner with no harsh sulfates, detergents, or silicones. Weightlessly cleans, softens, conditions. Creates incredible shine. Replenishes dry, damaged, dehydrated hair. A co-wash for all hair types. Great for color-treated hair.
Key Ingredients
Avocado & Babassu Oils moisturize, add luster & shine, repair & soften the hair
Product Benefits
Cleanses & conditions the hair in one step with no stripping. Gently detangles and adds shine. For all hair types!
March Promotions
This month at Visions Salon, two of our most popular products are on sale!  Enjoy 20% off ARROJO ReFinish Dry Shampoo AND 20% off ARROJO Wave Mist until March 31, 2017!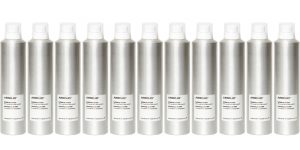 ReFINISH Dry Shampoo
Cleans hair without water. Soaks up excess oils. Removes buildup. Creates gritty texture and instant volume. Saves hair from too much shampoo, heat-styling, or color loss. In a nutshell, ReFINISH Dry Shampoo is a miracle style rescue.
 Key Ingredients
Product Benefits
Creates Texture & Volume. Cleans without water. For all hair types.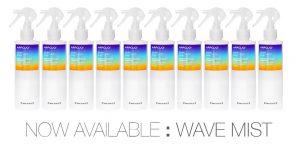 A light mist for easy, tousled beach waves. Reactivates curl, encourages playful body and texture.
Key Ingredients
Sea Salt, Sea Kelp Extract & Panthenol.
Product Benefits
Creates beachy waves. Reactivates curl. For wavy texture hair types or for those who want to add playful texture and body.
Just Back From the International Beauty Show in NYC!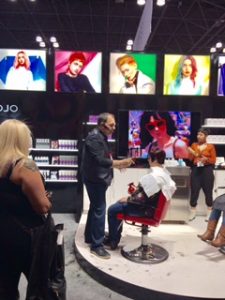 Visions Salon owner Tom Monitcello just returned from an inspiring weekend at the International Beauty Show in New York City.  He was honored to be cutting hair on stage, and working with the ARROJO team spreading their culture!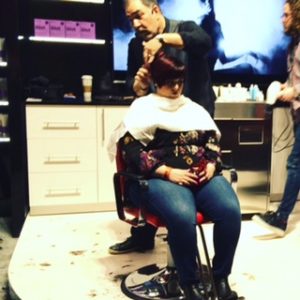 THE LONGEST-RUNNING EVENT IN BEAUTY
In 2017, IBS New York celebrated its 100th year anniversary! It was truly a spectacular centennial celebration. As always, the exhibit hall was lined with more than 500 top beauty companies and the most innovative products and tools. More than 150 educational classes were also available covering a variety of beauty industry topics. From awe-inspiring Main Stage performances to invaluable in-booth education to countless networking opportunities, IBS New York has everything serious beauty professionals need to help them increase their skills, refine their techniques and better their careers.
Check back here next month to stay updated on our new specials and trends.