During the month of October, all ARROJO Travel Size Products are 20% Off!  Read on to find out more about some of our favorite ARROJO Products!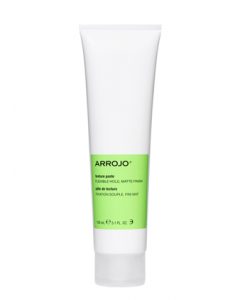 texture paste
Supple mid-hold paste that's perfect for short and messy styles. Texture and separation with a smooth matte finish. Recommended for that just-rolled-out-of-bed look.
Directions: Work evenly through damp or dry hair from the underneath, up and into the ends of your hair shaft. Now finger-style to create the piece-y-ness that will define your loose and messy textures.
I love the suppleness of Texture Paste. It means hair stays malleable, so I can have lots of fun playing with different shapes, styles, and textures. It's my go-to creator for modern, mussed up, short and mid-length hair.
Nick (Stylist, ARROJO studio)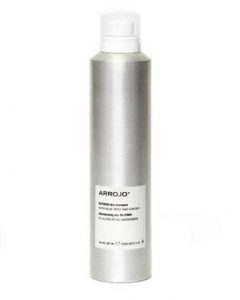 ReFINISH dry shampoo
Infused with aloe vera and ginger, ARROJO's ReFINISH dry shampoo cleans hair without water by absorbing excess oils. Creates texture and volume while protecting hair from damage caused by daily cleansing. A miracle style rescue that leaves hair feeling thick and manageable.
Directions: (Nick Arrojo's personal styling tips) shake well. Spray into hair from 8-10" away. Brush out and refinish as desired. Mix with your favorite arrojo products to tailor styles to you. Use daily and wet wash with ARROJO Moisturizing Shampoo once or twice a week.
Cleans hair without water. Soaks up excess oils. Removes buildup. Creates gritty texture and instant volume. Saves hair from too much shampoo, heat-styling, or color loss. In a nutshell, ReFINISH is a miracle style rescue.
Inva (Stylist, ARROJO studio)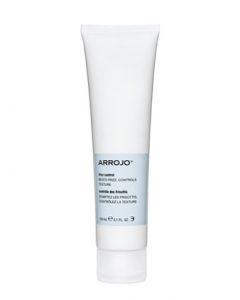 frizz control
Moisture-rich and anti-oxidizing to leave all curly hair frizz and tangle free. Adds smoothness, control, and shine to all hair types.
Directions: Work through damp hair to control all hair types, especially frizzy and curly textures. Or apply before you blow-dry for a sleek and soft finish.
This is the perfect product to tame medium, thick, curly or frizzy hair. It helps to smooth texture, it's great for straightening waves and curls, and it gives a soft, silken finish. I love the clean and refreshing lavender-pear scent, too.
Corrinn (Stylist, ARROJO studio)
hair crème
Supremely gentle and light to smooth and polish your look. Versatile too, hair crème creates smoothness when you blow-dry in, or simply run through damp hair for a soft and sexy slept-in look.
Directions: Run a liberal amount through damp hair to create the slept-in look, or blow-dry in for ultimate smooth control.
Versatility makes this my all time favorite product. A moisture-based grooming crème, it creates silky texture and soft hold. Great for polished blow-dries, great for laid-back finger-styling, and great for refreshing existing styles when on-the-go.
Amanda (Stylist, ARROJO studio)
These products AND MORE (1.7 oz size only) are on sale until October 31, 2018.  Stop in today and stock up for your holiday travels!