Cultivate. Educate. Elevate.
theCOLORgroup, believes that beautiful hair begins with the Principles of Design which are universally found in all beautiful creations.
It is our vision as the COLOR group to CULTIVATE a community of passionate, successful professionals and to EDUCATE hairstylists with a focused and energetic approach so that together we can ELEVATE the industry and the CRAFT of hairdressing.
theCOLORgroup offers basic, mid-level, and advanced workshops designed to further the stylists understanding, as well as the technical skills needed to become an accomplished designer!
Examples of courses offered:
Corrective Color — beginners through advanced
Creative Hair Coloring Techniques — experience using new methods and tools to create fashion forward looks.
Creative Advanced Methods of Hair Cutting — beginner to advanced scissor and razor.
Expanding one's mind and approach to modern hair design is the ultimate goal of the COLOR group and all of our courses and curriculum will reflect this belief!
Together, the COLOR group team will share with you in a purely educational environment, free from product bias. It is our goal to help stretch your horizons and broaden your knowledge of hair design and creative technical expertise.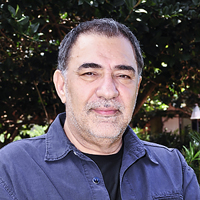 Tom Monticello
Director
Tom having spent over 30 years in the beauty industry, is still passionate about bringing the highest level of hair design, training, and customer service possible.
Starting his career as an educator/account manager on the original Vidal Sassoon Product line team, he was privileged to share the stage at various hair shows with Vidal himself as well as many of the Sassoon educators. This association inspired him to return to hairdressing full time and at the age of 27 opened his first salon and has never looked back.
After training with Amedeo Nazzaro, a celebrated hair colorist from New York, Tom focused on becoming a expert on Hair Color and became an educator and platform artist for a number of Hair Color company's, and now works with BES Italia, as one of there lead educators, traveling to Italy every year to bring back and teach the latest European hair fashions.
As founder of Visions Salon he employs over twenty five hair designers and constantly tries to help them accomplish all of there professional goals.
Also as founder of the COLOR group, an advanced hair cutting and color education team, he hopes to continue to inspire and motivate future hair designers to excel to their highest potential.