Get Ready for an Awesome October at Visions!

Later this month, eight Visions Salon employees will travel to New York City to attend ARROJO's Premiere education event: ARROJO EXPO 2017!  To celebrate, we are offering discounts on three of our favorite ARROJO Products, valid until October 31, 2017.
ReNEW CoWash 20% Off!
The newest product in the ARROJO line, ReNEW CoWash is a purifying, non-foaming cleansing conditioner with no harsh sulfates, detergents, or silicones. Weightlessly cleans, softens, conditions. Creates incredible shine. Replenishes dry, damaged, dehydrated hair. A co-wash for all hair types. Great for color-treated hair.
Key ingredients:
Avocado & Babassu Oils moisturize, add luster & shine, repair & soften the hair
Product benefits:
Cleanses & conditions the hair in one step with no stripping. De-tangles and adds shine. Great for all hair types.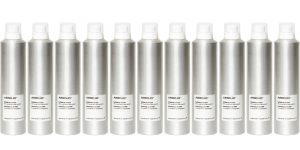 ReFINISH Dry Shampoo 10% Off!
One of our most popular products, this award winning Dry Shampoo cleans hair without water. Soaks up excess oils. Removes buildup. Creates gritty texture and instant volume. Saves hair from too much shampoo, heat-styling, or color loss. In a nutshell, ReFINISH is a miracle style rescue.
Key ingredients:
PrIMP Working Spray 10% Off!
With light, pliable hold, working spray is for primping and coiffing different shapes and styles. Amazingly responsive to heat-tool styling. Creates grip, adds detail.
Key ingredients:
Wild Geranium, Lemongrass, and Aloe Vera.
Product benefits:
Conditions, Fights humidity, Shines, Holds, Great for all hair types.
All Product Specials are valid until October 31, 2017.  Check back here for more updates on our trip to New York City!  We can't wait to share what we've learned with you!